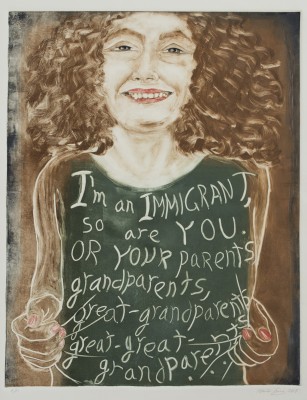 The CCCNY opens its Spring season with
I'M AN IMMIGRANT: So Are You, a solo exhibit by María Lino. One of the most cutting-edge Cuban artists to emerge from the New York City SoHo scene in the 1970's,
Ms. Lino continues to defy stereotype and sets out to confront one of the most relevant topics today: the rights of immigrants
and displaced persons. Bent on challenging xenophobic trends head on, the artist casts herself as the protean immigrant, whether through personal experience or ancestry. In the process, she gives voice to the voiceless through a series of self-portraits where the subject incites the viewer to embrace a common identity and a common cause: an advocacy for the legitimate rights of immigrants and a sense of belonging
in our society.
Her video project on immigration, The World Gone Astray, complements and anchors the exhibit, which will run from April 19 through May 13.
INSTITUTO CERVANTES GALLERY
211 E 49th St, bet. 2nd & 3rd Aves., NYC
OPENING:  Thursday, April 19 at 7 pm
FREE ADMISSION
PLEASE RSVP at:  info@cubanculturalcenter.org
Also on view during Instituto Cervantes' I'M AN IMMIGRANT program are Éxodos, sculptures by María Lago, in the garden; and Mojados, photographs by Francisco Uceda, displayed on the windows.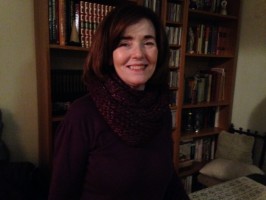 Maria Lino was born in Havana, Cuba. She immigrated to the United States with her family as a young child. Her family recognized her drawing abilities and encouraged her art education at a very early age. She received a full scholarship to New York University where she earned a Bachelor of Science in Studio Art. After graduating, she learned all aspects of documentary production in New York City, initiating her interest of the moving image as an art form. Subsequently, she earned a Master of Fine Arts from Florida International University. She is a Fulbright US Scholar and a two-time recipient of the Oscar B. Cintas Fellowship. As a visual artist, she is interested in the fusion of art and documentary, often using drawing, printmaking, text, video, and even dance, to create portraits of those who are often overlooked, such as people with disabilities and immigrants. Maria has exhibited her work extensively in both solo and group exhibitions. www.marialino.com
María Lino on the background to this exhibit:
Incorporating oil paint monotypes, video, dance, participatory performance and literature, the series 'I'm an IMMIGRANT' is an on-going project that takes a multidisciplinary approach to the concept of human migration, a subject that has interested me for years and that I have frequently expressed in my art. Most recently, using the technique of oil paint monotypes for its immediacy, I created a series of self-portraits wearing "t-shirts" with quotes pulled from my literary and historical research on the subject. Using myself as the protagonist allowed me to own the selected messages and express their urgency.
'The World Gone Astray' is based on a 5-month video-dance collaboration with Karen Peterson and Dancers. Working with three choreographers and 11 dancers, the video fuses dance performed specifically for the camera with selected footage of the stage performance in a collage that evokes feelings of dislocation and wonder of the fate of the characters presented. "The World Gone Astray" focuses on expressions and movements that convey scrutiny, displacement, and uprootedness when a person is forced to leave his/her homeland.
http://www.marialino.com/imanimmigrant/

This event is co-sponsored by Instituto Cervantes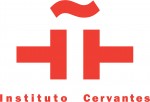 Presented with the promotional collaboration of