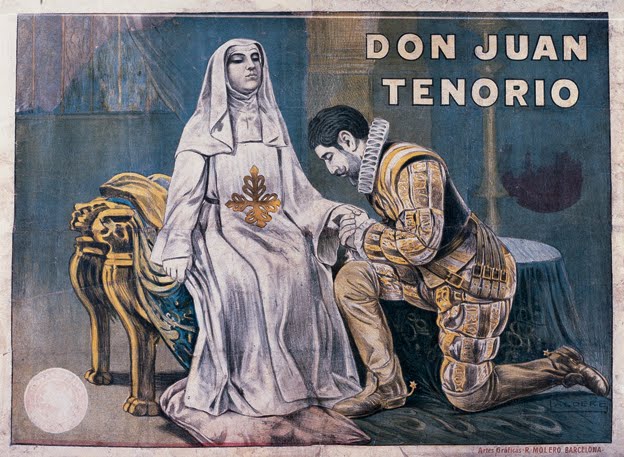 Cuál gritan esos malditos!
Pero ¡mal rayo me parta
si, en concluyendo la carta ,
no pagan caros sus gritos.
                     Don Juan Tenorio
It is fitting for the CCCNY to have chosen All Souls Day (Día de los fieles difuntos) for a unique interview by veteran Cuban journalist Olga Connor with Alfredo Rodríguez López-Vázquez, a life-long scholar on Don Juan, that most archetypal of characters. Theater aficionados of the 16th century loved El Burlador de Sevilla o el Convidado de Piedra, who leaves his tomb as a ghost and goes to dine with Don Juan, eventually leading him into hell. Yet as Prof. López Vázquez will note, this year not only marks the 400th anniversary of the creation of the character of Don Juan, but also the 200th anniversary of the birth of José Zorrilla, who revived him for the 19th century. Prompted by Connor's incisive questions, Prof. López-Vázquez will certainly cover the gamut of Don Juan's journey in Spanish theater, from the Burlador to Tenorio: El burlador de Sevilla, La venganza en el sepulcro, El convidado de Piedra and Don JuanTenorio.
DOUBLE DISCOVERY CENTER
COLUMBIA UNIVERSITY
Alfred Lerner Hall, Room 306
2920 Broadway (& 115th St.), NYC
IMPORTANT:
Go through the gate at Broadway and 115th Street:
Enter the building through campus. Don´t use the Broadway entrance.
FREE ADMISSION / SPACE IS LIMITED
RSVP: cccofny@aol.com
Playwright and essayist Alfredo Rodríguez López-Vázquez, teaches at Universidad de la Coruña in Galicia, Spain. An anthology of his plays with Cuban themes was published under the title Farsa total, tetralogía cubana (Plaza Editorial, Miami, 2014). He has done extensive research on José Lezama Lima, the subject of his thesis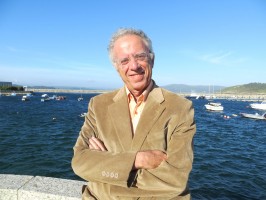 for his Docteur ès Lettres degree from the Université de Haute-Bretagne, (1979. He has edited numerous works on the theater from Spanish Golden Age, especially those published by Cátedra, Letras Hispánicas, among them, El burlador de Sevilla o el Convidado de Piedra, attributed to Tirso de Molina, which he began to edit in 1989, updating his introduction on several occasions, until the most recent edition in 2016. He has delved extensively into the origin of the character of Don Juan and the polemics surrounding the book's authorship, which critics had overlooked until last century, in spite of the fact that Burlador had not been included by Tirso in any of his five volumes of Comedias. He has edited 25 additional works from this period, among them: Segunda parte del Lazarillo de Tormes. Edición de Alfredo Rodríguez López-Vázquez (Cátedra, Letras Hispánicas, 2014) and La Estrella de Sevilla./El gran rey de los desiertos. Andrés de Claramonte, (Madrid: Cátedra, 2010). His most recent scholarly project is Jean de la Fontaine, Fables/ Fábulas, a bilingual edition, translated in rhyme into the Spanish and with an introduction by Alfredo Rodríguez (Cátedra, Letras Universales, 2015). Professor López -Vázquez also has a doctorate in Philosophy and Letters from the Universidad de Valladolid (1981), and is the author of a thesis on the French poet Jules Laforgue.
Professor, writer and independent journalist, Olga Connor received her Ph. D. in Romance Languages from the University of Pennsylvania in 1980, with a thesis on the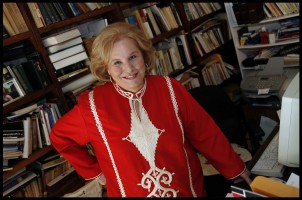 evolution of Octavio Paz's aesthetic theories. She is the author of Palabras de mujer / Parables of Women (Fiction, Betania, 2006) and numerous essays, among them, "Ocotavio Paz: poesía, filosofía y pensamiento," Digilec, Universidad de La Coruña (Academia. Edu. 2014),  "Spanish Televisión" (Enciclopedia del español en Estados Unidos, Alfaguara, 2008); "Español o Espanglish" (2008) and "11 años sin Paz" (2010), both Baquiana Editions. Her essay on "The Wandering Cuban Literature" in Cubans Epìc Journey (2012, is now also available in Spanish (2016). She writes for El Nuevo Herald as well as other English and Spanish publications. A master interviewer, her many world-famous subjects include the likes of Pope John Paul II (Cuba, 1998); Gonzalo Rojas, Premio Cervantes; Yevgeny Yevtushenko, Perestroika Poet; Spanish novelist Almudena Grandes; British Historian Hugh Thomas; telenovela authors Brazilian Gloria Pérez (El Clon) and Colombian Fernando Gaitán (Yo soy Betty la Fea), and president Bill Clinton, on his autobiography My Life. She is former editor of feature sections in El Nuevo Herald and In-flight Aboard Magazine. Her 20-year teaching dossier inludes Swarthmore College, the University of Pennsylvania, and Dickinson College, in Pennsylvania, the University of  Miami, and Florida International University.
This event is co-sponsored by the Latinx Professional & Educational Network
of Columbia University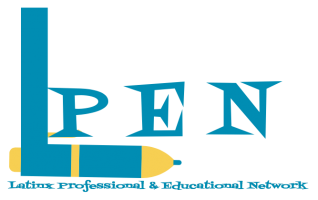 Presented with the promotional support of Diario de Cuba