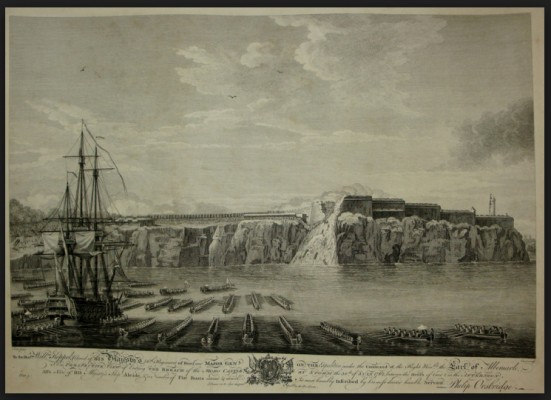 A unique one-hour presentation of Cuban vistas, etchings and drawings, spanning three centuries. Selected from the private collection of the New York Public Library, the talk and exhibit will include original works by Wifredo Lam, Daniel Serra-Badué, Ana Mendieta, Domingo de la Cueva, Flora Fong, Jorge Pardo, Emilio Sánchez, and others, as well as several joint projects with Cuban writers. A special segment will encompass antique etchings and drawings by foreign artists visiting the Island throughout the 18th century, including the one shown above by French painter Dominic Serres, depicting the British fleet closing in on Havana in 1762.
The event will be capped by an on-site donation to the NYPL's  private collection of an original drawing by the outstanding Cuban artist Gladys Triana, as well as a copy of Confluencias,* her collaborative project of engravings and text with writer Reinaldo Arenas in 2003.
The presentation will be followed by a Q&A.
This unique exhibit, which will include many works never shown publicly before, has been curated by artist Aurora de Armendi, professor of etchings and artists' books at Parsons School for Design at The New School, and Alvaro González-Lazo, Print Specialist at the New York Public Library. The presentation will be conducted in Spanish.
NEW YORK PUBLIC LIBRARY
Stephen A. Schwarzman Building
Fifth Avenue at 42nd Street, NYC
Third Floor, Room: 308 (Etchings and Photographs)*A limited edition sponsored by the Cuban Cultural Center of New York for the II Encuentro Internacional sobre Creación y Exilio "Con Cuba en la distancia," Cadiz, Spain, May 19-23, 2003.
Free Admission

OPEN 

ONLY

 TO CCCNY MEMBERS
This event is presented with the promotional collaboration of