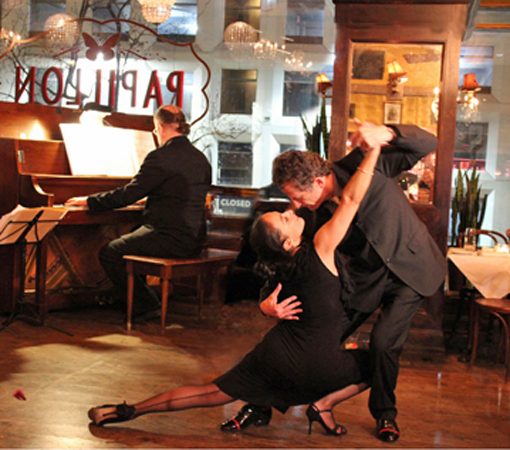 The CCCNY pays tribute to the legendary Carlos Gardel, the most prominent figure in the history of tango, a genre that since the onset of the 20th century has captivated audiences worldwide, and was embraced, interpreted and recorded by Cuban artists since the early 1930's.
This veritable musical tour-de-force, directed and arranged by Maestro Pablo Zinger, will span the history of tango music from the early 1900′s to the early 2000′s, from whorehouse to movie house, from tragedy to comedy, from GARDEL to PIAZZOLLA, with an extraordinary line-up of tango vocalists: GIZELXANATH (Mexico) LEONARDO GRANADOS (Venezuela) DIANA LÓPEZ (Honduras) and LOURDES SIMÓN (Cuba).
These splendid singers will take you back to the birth to TANGO, and make you feel the varied emotions contained in these songs, from placid love to utter desperation, and everything in between…
Maestro Zinger and company will be joined by "LA FRANCESA y EL POLACO" (LAURENCE MARTIN and STEFAN ZAWISTOWSKI), pictured above, who will illustrate selected songs with their passionate tango-dancing.
Christ and Saint Stephen's Church
122 West 69th Street
(bet. Broadway & Columbus) NYC
FOR TICKETS, CLICK HERE:
http://www.brownpapertickets.com/event/491438
SURPRISE CLIPS:
Listen to our beloved Olga Chorens' rendition of the famous tango
Sin Palabras in a 1955 broadcast of El Show de Olga y Tony:
http://www.youtube.com/watch?v=4qwLp1qRYXw
The legendary Carlos Gardel singing his classic tango Volver:
http://www.youtube.com/watch?v=dQr_PKgvkHI
This exclusive one-night-only production is supported, in part, by public funds from the New York City Department of Cultural Affairs in partnership with the City Council, and is made possible by the New York State Council on the Arts with the support of Governor Andrew Cuomo and the New York State Legislature.