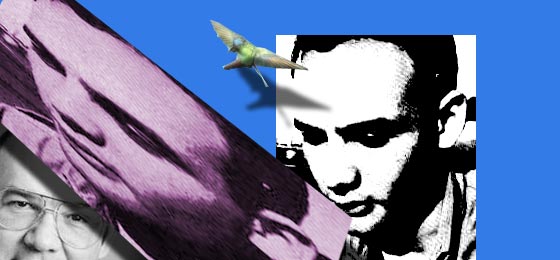 The CCCNY revisits the work of Severo Sarduy and pays due hommage to his legacy on the 20th anniversary year of his death. One of Cuba's most brilliant and versatile writers, Sarduy excelled as a novelist, essayist and poet, and his groundbreaking oeuvre is enjoying reawakened interest worldwide.
The commemorative tribute will begin with a unique filmed interview with Severo Sarduy in the gardens of his home in Chantilly, outside Paris, where the writer spoke in depth about his upbringing and creative development, his major works, and the philosophical and religious aspects of his own personal cosmology. The film will also show the interior of his home, where he not only wrote most of his literary classics, but also produced a substantial artistic output, as will be evidenced by many of his paintings.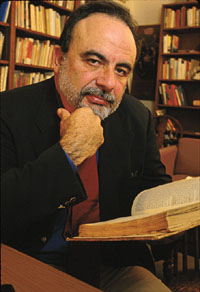 The interview was conducted by distinguished
Yale University Sterling Professor and
2011 National Humanities Medal recipient
Roberto González-Echevarría,
Sarduy's personal friend and foremost authority
on his literary legacy. A prolific critic and one of the most highly recognized intellectuals of his generation,
Prof. González-Echevarría is the author of numerous books on Spanish and Latin American literature, including 
La Ruta de Severo Sarduy and a critical edition of Sarduy's
De donde son los cantantes (both of which will be available at the event), as well as of many essays on Sarduy's work, including an obituary after the author's untimely death in 1993, which will be distributed among the audience.
Welcoming remarks by Prof. Elena Martínez, Chair of the Department of Comparative Literature at Baruch College.
Introduction by poet, essayist and literary critic Lourdes Gil, professor of Latin American history and culture, women's studies and literature in translation at Baruch College.
After the screening of the film, a New York City premiere, there will be a Q & A session with Prof. González-Echevarría, followed by a wine and cheese reception.
This event will be in Spanish.
BARUCH COLLEGE
25th Street., e/ Lex. & Third Aves., NYC
5th Floor, ROOM 165  
Directions:
Enter in the modern building identified as  One Bernard Baruch Way.
Take the escalator to the Second Floor.
Take the elevator on the Second Floor to the Fifth Floor.
Go through metal doors with signage of SARDUY TRIBUTE.
Proceed to Conference Room 165.
FREE ADMISSION - SPACE IS LIMITED
RSVP: cccofny@aol.com
This event is co-sponsored by the Department of Comparative Literature and the Department of Black and Latino Studies of Baruch College.