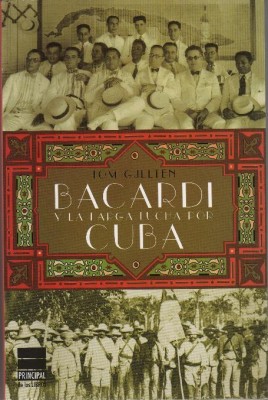 An exclusive event honoring Bacardi and its unique role in the the history of Cuba. With veteran NPR correspondent Tom Gjelten, who will discuss the history of Bacardi rum, founded in 1862 in Santiago de Cuba and based today in Bermuda. The occasion marks the New York City launching of Bacardí y la larga lucha por Cuba (Principal de los Libros), the long-awaited Spanish edition of Gjelten's lauded book Bacardi and the Long Fight for Cuba: The Biography of a Cause (Viking, 2008).
The Bacardís of Cuba, builders of a rum distillery and a worldwide brand came of age with their nation and helped define what it meant to be Cuban. Across five generations, the Bacardí family has held fast to its Cuban identity, even in exile from the country for whose freedom they once fought. Now Gjelten tells the dramatic story of one family, its business, and its country, a 150-year tale with the sweep and power of an epic.
The bilingual presentation will include vintage images from the publication, and will be followed by a reception.
THE AMERICAS SOCIETY
680 Park Ave. (Park Ave. @ 68th St.), NYC
Admission:
FREE for AS and CCC of NY Members / $10.00 for non-members.
To register, click below:
Member Registration Non-Member Registration
For more information, write to: cccofny@aol.com
Co-presented by the Americas Society

and Principal de Libros.