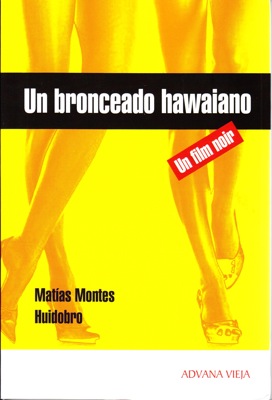 Matías Montes Huidobro
The New York City launching of the latest novel by Cuban playwright Matías Montes Huidobro, whose incursion into this genre is less well known. Written as a film noir, the novel reflects the overpowering influence of cinema on writers who came of age in 1950's Havana, one of the topics the author will be addressing. In Spanish.
Más conocido como dramaturgo, el escritor cubano Matías Montes Huidobro, finalista del Alfaguara y el Planeta en fechas tan tempranas como 1968 y 1970 respectivamente,  tiene una larga trayectoria como novelista, que es reconocida desde el año 1975 cuando el Fondo de Cultura Económica de México publica y le premia Desterrados al fuego, una única mención honorífica en el concurso Primera Novela, que contó con un jurado de lujo formado por Carlos Fuentes, Juan Rulfo y Juan Goytisolo.
Un bronceado hawaiano es su última novela. Trabajada como un film noir, Montes Huidobro dejará a su vez constancia del vínculo cubano de una generación de escritores en la cual el cine, industria y arte de nuestro tiempo, formó parte del movimiento de vanguardia de los años cincuenta en Cuba, y a la cual hará referencia en el transcurso de su charla, más allá de los límites de la presentación estricta de su novela.
The author will be presented by literary critic Gladys Feijoo, Ret. Prof., CUNY.
Salones de MGSCOMM
817 Broadway (esq. 12 St.), NYC
2do Piso
ENTRADA GRATIS (ESPACIO LIMITADO)  RSVP: cccofny@aol.com
This literary event is free and open to the public and will be held in Spanish.