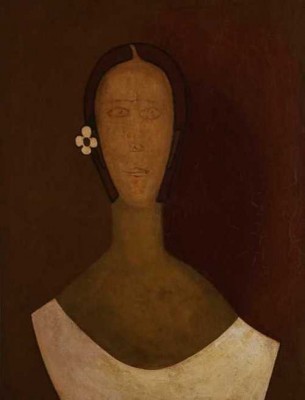 An unprecedented gathering highlighting the cultural and social legacy of Cuban women and their transcendental role in shaping the nation, from colonial times to the present. With artists, writers and scholars from the U.S., Canada, Europe and Latin America. The all-day conference includes breakfast, lunch, merienda and a farewell toast, as well as a recital of traditional boleros and sones dedicated to the Cuban woman.
The Cuban Cultural Center of New York will also celebrate the momentous occasion by bestowing La Avellaneda Medal, its most prestigious literary award, to the outstanding poet, writer, and human rights advocate María Elena Cruz Varela, for a groundbreaking body of work that has not only enriched Cuba's literary landscape, but has also fomented social change.
Amelia Peláez's Gundinga (Oil on fabric, 1931)
PROGRAM*
A.M.
8:00 Registration / Continental Breakfast
8:30 Welcome
Manuel Castedo (President, Cuban Cultural Center of New York)
8:45 Dedication In Memoriam to Mariana Grajales
Chantal Reina-Ortiz and Brigitte Reina-Ortiz (Columbia University)
8:55 Keynote Address
Writing Cuba's Herstory
(On the centennial of the founding of Partido Nacional Feminista, 1912)
Ileana Fuentes (Red Feminista Cubana)
9:30 MORNING PANEL: The Colonial Era and The Republic

From Across the Atlantic: 19th Century Writers Conceive the Nation
La Condesa de Merlín (1780-1852) and Gómez de Avellaneda (1814-1873)
Adriana Méndez Rodenas (University of Iowa)
On the Frontlines: Mambisas and Poets in the Cuban Wars of Independence (1868-1898)
Ana García Chichester (University of Mary Washington)
Amelia Peláez: A Personal Retrospective
Carmen Peláez (Playwright)
Lydia Cabrera: A Profile of Genius
Mariela A. Gutiérrez (University of Waterloo, Ontario, Canada)
Culture, Civil Society, and Journalism: The Voice of Women in the Republic
Lourdes Gil (Baruch College)
Moderator: Perla Rozencvaig (Columbia University)
P.M.
12:00 – 1:30 Almuerzo and Recital
The Cuban Woman in Song
Guitar and Voice: Juan Carlos Formell
2:00 Tambor por Rita Montaner
A tribute to the legendary artist, with archival photographs and never-before-seen film footage
Armando López (Journalist)
2:45 Carmen Herrera: A Special Recognition
"Premio Amelia Peláez"

3:00 Merienda and Raffles (Books, DVD's and CD's)
3:30 AFTERNOON PANEL: Revolution, Opposition and Exile
The Black Woman in Cuba: Gender, Race and Power
Ricardo Bacallao (Filmmaker) and Yesenia Fernández Selier (New York University)  
Carrying the Nation on their Shoulders: Writings in Exile
Octavio de la Suarée (William Paterson University)
The Persistent Image: The Art of Triana, Brito and Mendieta
Diana Álvarez-Amell (Seton Hall University)
Women's Civic Resistance in Cuba Today—the Independent Libraries, the Ladies in White, and the rural movement (FLAMUR)
Victoria Ruiz Labrit (Citizens' Committee for Racial Integration, CIR)
Yoani Sánchez and Generation Y
Rafael Pi Román (Channel 13, PBS)
Moderator: Margarita García (Montclair State University)
6:00 La Avellaneda Medal Award Ceremony
Presenter: Iraida Iturralde (Cuban Cultural Center of York)
Medal Recipient: María Elena Cruz Varela
The Cuban Woman: A Possible Future
7:00 Farewell Toast
BARNARD COLLEGE
Barnard Hall – Held Lecture Hall
3009 Broadway, NYC
(Across from Columbia University
campus, bet. 116th & 117th Sts.)
*Subject to last-minute changes. Partially in Spanish (simultaneous translation into English provided upon previous request).
REGISTRATION:

CCCNY Members:*
$85 per single ticket
$150 per two tickets
Non-Members: $100 per ticket
Students (with current I.D.): FREE (excludes meals)
* Raíces de Esperanza members are entitled to the same discount as CCCNY members.
TO REGISTER ONLINE: http://www.brownpapertickets.com/event/252083
TO REGISTER BY MAIL:
Send a check to:
Cuban Cultural Center of New York
P.O. Box 2608
Times Square Station
New York, NY 10036
For more information, write to:
cccofny@aol.com
This event are supported, in part, by the New York City Department of Cultural Affairs, and made possible by the New York State Council on the Arts, with the support of Governor Andrew Cuomo and the New York State Legislature.