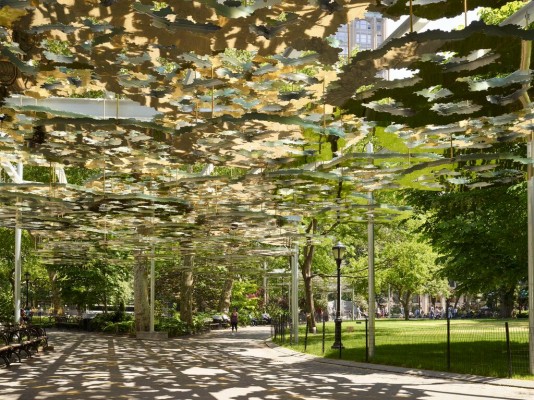 Spend an afternoon at Madison Square Park exploring the ever-changing wonders of Fata Morgana with its creator, Cuban-American artist Teresita Fernández. Fata Morgana is Madison Square Park Conservancy's largest and most ambitious outdoor sculpture to date. The outdoor sculpture consists of 500 running feet of golden, mirror-polished discs that create canopies above the pathways around the Park's central Oval Lawn.
In nature, a Fata Morgana is a horizontal mirage that forms across the horizon line. Alluding to this phenomenon, Fernández's project introduces a shimmering horizontal element to the Park that engages visitors in a dynamic experience. The installation is a mirror-polished, golden metal sculpture that  hovers above the Park's winding walkways to define a luminous experiential passage for Park visitors. The metal forms, perforated with intricate patterns reminiscent of foliage, create abstract flickering effects as sunlight filters through the canopy, casting a golden glow across the expanse of the work, paths, and passersby. The project is Mad. Sq. Art's first sculpture to fully utilize the upper register of a visitor's space.
This event is free and open to the public. Visitors are advised to arrive in the park around 11:30 am to walk around and experience the work on their own. THE GROUP SHOULD ASSEMBLE AT THE PARK'S NORTH FOUNTAIN MONUMENT BY 12 NOON to meet  Ms. Fernández, who will give a talk and tour of the installation, followed by a Q&A with the public. For more information, write to cccofny@aol.com
MADISON SQUARE PARK
Madison Ave. & 23rd Street, NYC
This exclusive event with artist Teresita Fernández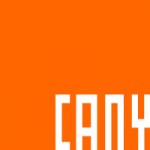 is co-sponsored by Cuba Art NY, a non-profit organization
dedicated to promoting the work of contemporary Cuban artists
and to foster the appreciation and understanding
of contemporary Cuban art.

Teresita Fernández (b. 1968) is a 2005 MacArthur Foundation Fellow and the recipient of many prestigious awards, including a John Simon Guggenheim Memorial Foundation Fellowship, a National Endowment for the Arts Artist's Grant, an American Academy in Rome Affiliated Fellowship, and a Louis Comfort Tiffany Biennial Award. Appointed by President Obama, Fernández served from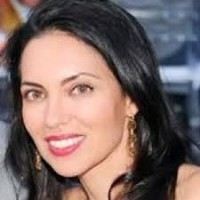 2011-2014 on the U.S. Commission of Fine Arts, a federal panel that advises the President, Congress, and governmental agencies on national matters of design and aesthetics. Fernández's large-scale commissions include recent site-specific works at Louis Vuitton locations in Shanghai and Paris. Her works are included in many prominent collections and have been exhibited extensively both nationally and internationally at The Museum of Modern Art, New York; the San Francisco Museum of Modern Art; The Museum of Fine Arts, Boston, MA; The Modern Art Museum of Ft. Worth, TX; The Smithsonian Museum of American Art, Washington, D.C.; Castello di Rivoli, Turin, Italy; The Corcoran Gallery of Art, Washington D.C.; Centro de Arte Contemporaneo, Spain; and the Institute of Contemporary Art, Philadelphia. Fernández is currently on the board of Artpace, a non-profit, international artist's residency program. She received her MFA from Virginia Commonwealth University and her BFA from Florida International University. The artist lives and works in Brooklyn, New York.
Fata Morgana was designed by Teresita Fernández in collaboration with SITU Fabrication. Fabricated by Adirondack Studios. Structural engineering engineering by Thornton Tomasetti. Teresita Fernández, Fata Morgana, 2015. Courtesy of the artist, Lehmann Maupin, New York and Hong Kong, and Anthony Meier Fine Arts, San Francisco. Photograph by Elisabeth Bernstein; © Teresita Fernández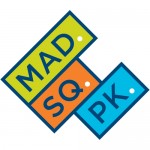 Mad. Sq. Art is the free, contemporary art program of Madison Square Park Conservancy. Since 2004,Mad. Sq. Art has commissioned and presented thirty premier installations in Madison Square Park by acclaimed artists ranging in practice and media. Madison Square Park Conservancy is the not-for-profit organization whose mission is to protect, nurture, and enhance Madison Square Park, a dynamic seven-acre public green space, creating an environment that fosters moments of inspiration. The Conservancy is committed to engaging the community through its beautiful gardens, inviting amenities, and world-class programming.
The CCCNY gratefully acknowledges the promotional collaboration of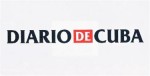 and