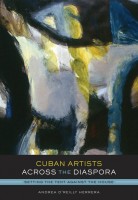 A unique Cuban art presentation by Andrea O'Reilly Herrera on the unconventional, multi-generational, itinerant, and ongoing art exhibit CAFÉ: The Journeys of Cuban Artists. In this New York City launching of her new book, Cuban Artists Across the Diaspora, Ms. O'Reilly Herrera, will focus on the CAFÉ project to explore Cuba's long and turbulent history of movement and rupture from the perspective of its visual arts and to meditate upon the manner in which one reconstitutes and reinvents the self in the context of diaspora.
The author will discuss how exile and loss have always figured as central preoccupations among Cuban artists and intellectuals. In interviews with more than thirty artists, including José Bedia, María Brito, Leandro Soto, Glexis Novoa, Baruj Salinas, and Ana Albertina Delgado, she will explore the many and sometimes paradoxical ways these artists place themselves in the narratives of scattering and displacement, how the history of Cuba informs their work and establishes their connections to past generations of Cuban artists… ultimately bearing witness to the fact that a long tradition of Cuban art is indeed flourishing outside the island.
Andrea O'Reilly Herrera is Professor of Literature and Director of Women's and Ethnic Studies at the University of Colorado at Colorado Springs. In addition to being a published poet and literary critic, she is the author of a number of critical works including ReMembering Cuba: Legacy of a Diaspora, the novel The Pearl of the Antilles, the edited collection of essays Cuba: Idea of a Nation Displaced, and the coedited textbook The Matrix Reader: Examining the Dynamics of Oppression and Privilege.
The author will be presented by Jorge Moya, patron of the arts.
MGSCOMM Gallery Space
817 Broadway (esq. 12 St.), NYC
2nd Floor
FREE ADMISSION (SPACE IS LIMITED)
RSVP: cccofny@aol.com
This art event is free and open to the public and will be held in English.