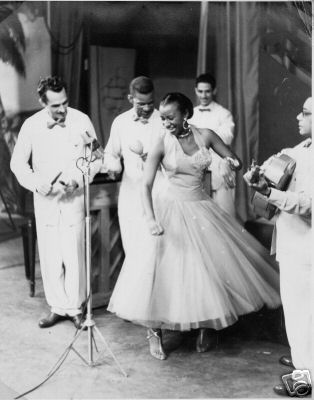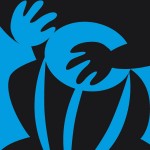 Join us at our 14th annual congress as we celebrate the origins and evolution of Cuban popular music, its role in shaping Cuban national identity, and its influence and legacy worldwide. This year's gala event will be dedicated In Memoriam to none other than our beloved Celia Cruz, la Guarachera de Cuba (pictured above with the legendary Sonora Matancera), New York City's indisputable Queen of Salsa.
The all-day extravaganza will feature a keynote presentation by the distinguished music historian, Cristóbal Díaz Ayala, archival photographs and historical footage covering our myriad rhythms, special tributes to the late Osvaldo Farrés, el Rey del Bolero, as well as filmed and live entertainment. With Chico Alvarez as Master of Ceremonies, and starring Xiomara Laugart, joined by a cavalcade of presenters, singers and musicians… Enjoy thrilling performances–on stage or on screen–by Orquesta Anacaona, Orquesta Aragón, Mario Bauza, Raudel Collazo, Barbarito Diez, Paquito D'Rivera, Gloria Estefan, Graciela, Olga Guillot, Yuniel Jiménez, Hermanas Márquez, Ben Lapidus, Boris Larramendi, Armando López, Pablo Milanés, Rita Montaner, Benny Moré, David Oquendo, Carlos del Pino, Mike Porcel, Chano Pozo, Bobby Sanabria, Yesenia F. Selier, Silvito el Libre, Meme Solís, SonSublime, Grupo Unity, Ramón Veloz and many, many more!
Travel through time and let your heart beat and sing to the rhythms and melodies of changüí, punto guajiro, son montuno, danzón, rumba, guanguancó, conga, guaracha, bolero, mambo, cha cha chá, nueva trova, Cuban jazz, raggaeton, and much more!
At SYMPHONY SPACE
Broadway & 95th Street, NYC
Admission:*
Non-CCCNY Members: $100
CCCNY Members: $75 (Members should purchase their tickets for $100 at either the Symphony Space box office or through the link below. They will receive a $25 refund voucher at the congress.)
*Includes all formal presentations, films, and live entertainment, plus continental breakfast, drinks, and afternoon snack.
PURCHASE TICKETS AT THIS LINK:
TICKETS FOR CUBA Y SU MÚSICA

For more information, write to: cccofny@aol.com
P R O G R A M A
Chico Álvarez, Master of Ceremonies
A.M.
9:00 Registration, Continental Breakfast
10:00 Welcome
Manuel Castedo, President, CCCNY
10:10 Dedication to Celia Cruz, In Memoriam
10:20 Keynote
Del Manisero a la Guantanamera: Trayectoria y trascendencia
de la música cubana en los Estados Unidos
Cristóbal Díaz Ayala, Cuban Music Historian

11:00 RALLANDO EL GÜIRO
El punto guajiro en su punto… y puro son
David Oquendo y sus Amigos
Yuniel Jiménez, Jorge Bringas, Manuel Alejandro Carro
Música folclórica de Oriente
Ben Lapidus, Musicologist (John Jay College)
Del son al danzón
Barbarito Diez, La Voz de Oro (on film)
Chico Álvarez Sextet
Angel Díaz, Jr., Joseph González, Yuniel Jiménez,
Rubén Rodríguez, Mauricio Smith, Jr.

Al toque del tambor… rumba, guaguancó, conga, comparsa y timba
Yesenia F. Selier, Performance Scholar (New York University)

Quizás un bolero
Special tribute In Memoriam to Osvaldo Farrés, El Rey del Bolero
Guest of Honor: Fina Farrés
Presenter: Iraida Iturralde, CCCNY

A toda Cuba le gusta… gozar al son de la guaracha
Hermanas Márquez and Paquito D'Rivera
with David Oquendo and Yuniel Jiménez
P.M.
1:30 – 2:30 Almuerzo …elija a su gusto
3:00 CUBA EN CLAVE
Del mambo al chachachá… y el Benny, con su permiso
Armando López, Cultural Critic
Movimiento Nueva Trova
Pablo Milanés and Silvio Rodríguez (on film)
Mike Porcel
Machito and his Afro-Cubans
Bobby Sanabria, Musician and Jazz Educator
Jazz en cubano
Carlos del Pino y Sonidos de Cuba
Tomás Estrada, Orlando Sánchez Soto, Ben Wilkenman
Hip hop, rap y raggaeton: Un grito al mar
Raudel Collazo, a.k.a. Ecuadrón Patriota

5:00 Merienda …T-shirts, books, DVDs and CDs

6:00 QUÉ BUENO CANTA Y TOCA USTED
Desfile de los grandes… Lecuona eterno
Xiomara Laugart en concierto
Candido and the Amaury Acosta Band
Axel Tosca Laugart, John Benítez, Yusnier Sánchez
Special tribute to living legend Candido Camero
Presenter: Iván Acosta

Y se formó la Guantanamera…
Gran descarga de las estrellas


This event is presented in partnership with

       and  
In association with

GINNY LEVA, M.D.
In collaboration with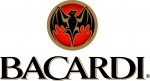 and
And is
supported, in part, by public funds from the New York City Department of Cultural Affairs in partnership with the City Council, and made possible by the New York State Council on the Arts with the support of Governor Andrew Cuomo and the New York State Legislature.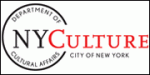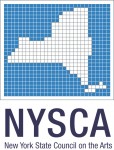 With the promotional cooperation of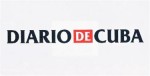 and