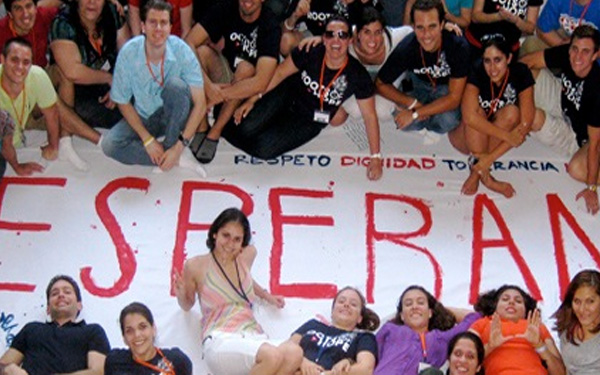 The Cuban Cultural Center of New York celebrates its 6th Annual Congress, co-sponsored by the Cuban-American Student Association (CASA) and the Center for Latin American and Caribbean Studies (CLACS) de New York University
LA JUVENTUD CUBANA
Raíces de Esperanza
Sábado 30 de junio de 2007
New York University KING JUAN CARLOS CENTER
53 Washington Square South, NYC
PROGRAMA
A.M.
8:30 Tarjetas de Inscripción / Desayuno continental
9:00 Bienvenida Maritza E. Colón (Vicedirectora, CLACS/New York University)
Amy Morilla (Presidenta, CASA/New York University)
Iraida Iturralde (Presidenta, Centro Cultural Cubano de Nueva York)
9:10 Dedicatoria a Raíces de Esperanza Verónica Nur Valdés, Raíces de Esperanza
9:40 Conferencia magistral de apertura
I'm Cuban–What's Your Excuse? Gustavo Pérez Firmat
10:20 Panel AM
 ~ La segunda generación: memoria histórica y formación de la identidad
The Politics of Mis-ReMembering: History, Imagination and the Recovery of the 'Lost Generation' Andrea O'Reilly Herrera, University of Colorado
Para sentirlos enteros: Inherited Memory in 2nd Generation Cuban-American Literature Amy Morilla, New York University
La juventud cubana en la Isla: identidad nacional y mitos revolucionarios Ramón Colás, Bibliotecas Independientes de Cuba
Moderador: Michael Bustamante, Raíces de Esperanza
P.M.  12:15 – 1:45 Almuerzo
2-3  Documental
East of Havana, un agudo close-up de la vida de tres jóvenes raperos decididos a confrontar el futuro de su generación desde los confines de un solar cubano. Soandry, Magyori y Miki son los líderes del movimiento hip hop de Cuba. Dotados de carisma y talento, el intrépido trío asume el riesgo de expresarse libremente ante la adversidad del medio ambiente. Escrito y dirigido por las jóvenes cineastas cubanoamericanas Jauretsi Saizarbitoría y Emilia Menocal. Producido por Charlize Theron y Juan Carlos Saizarbitoría.
Diálogo con las directoras
Moderador: Ricardo Herrero, Raíces de Esperanza
3:30 Panel PM
 ~ Los hijos de los hijos: Testimonios
Hecha en Cuba, Born in the USA Jennifer Orta, CASA/ New York University
Decoding the Cuban Religion Gabriel Rodríguez, Channel Thirteen, PBS NY
Hija de su segunda vida: A Political Prisoner's Daughter Victoria Estévez, SportsNet NY
My life as a halfie Kenny Sinkovitz, CAUSA/Princeton University
Piezas de repuesto Cristina Figueredo Zizold, Artist
Moderadora: Alexandra Loizzo, CAUSA/Columbia University
5:00 Exposición de arte Coauspiciado por CubaArt NY y Reynardus & Moya Advertising
Artistas invitados: Cristina Figueredo, Carlos Alberto Alvarez, Arnold Méndez y Tanya Alvarez
Merienda Pastelitos, café y refrescos / Venta de libros y CD's
6:30 Conferencia magistral de clausura
Noticias sobre la libertad María Elena Cruz Varela
7:15 Recepción de gala Buffet, vino y repertorio musical en el patio